Grade 8  for 2018/19 School Year
2023 Graduation Year
This is an INVITE ONLY, high level local program for Utah kids.   Separate and distinct from 212 National Teams.
* Rising 7th grade players with athleticism and skill sets resembling our rising 8th grade players will be considered.
20 Tournament Roster Spaces
5 Training Only Spaces
---
Program Priorities
Instill a love for the game.
Skill Set and lacrosse IQ development
FUN
---
212 5 Year Review
---
Uniforms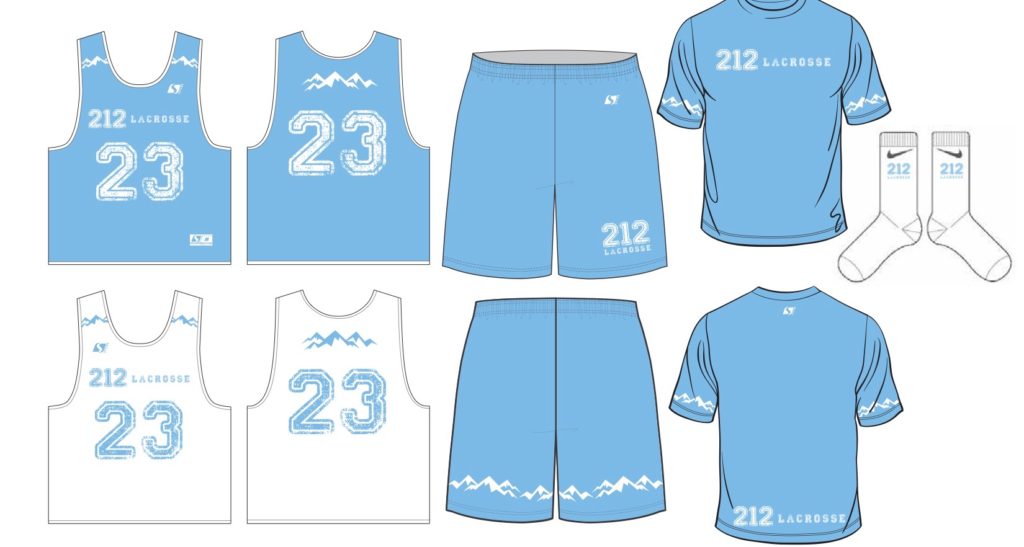 ---
Team Member Benefits
Priority private instruction scheduling
Recruiting advocacy when applicable
Recommendation Letters
---
Coaching
---
Mentoring
An important quality of 212 Lacrosse is our commitment to 212 players off the field, throughout high school and beyond.  We will make ourselves available as mentors in all feasible manners.
Including but not limited to :
Recommendation letters
Intern and employment opportunities with 212 Lacrosse when applicable
---
Summer
Monday & Wednesday 9:00-11:00 am
Training Facility:  Jeremy Ranch Elementary School
Always check calendar before attending training.
No Training First Week of July.
Fall Schedule
---
Summer Private Training
In order to accommodate as many people as possible and remain efficient, group sizes will be limited to 5 players of similar ability per private session.
Private summer training sessions will be offered as follows:
Jeremy Ranch Elementary School

Monday

 – 

Thursday

8:00 – 9:00 am
---
 Winter Schedule
Indoor Lacrosse: November- December (Club Team members receive priority registration).
---
Tournament Schedule 
---
Depth Chart
The coaching staff has full discretion.
The depth chart ranks players on a combination of attitude, practice attendance, individual ability, player safety and team utility.
The depth chart is used to determine playing time and tournament rosters.
---
 2019 Full Season Costs
Full Season Outdoor Coaching Fee : $695 (includes uniform)
Travel Tournament Fee: $295 – $495
Local Tournament Fee: $150 – $195
Indoor Lacrosse: $150 – $250
Travel, Food, and Lodging : Each family is responsible for travel, food and lodging expenses associated with tournament play.
---
Registration
Payment plans available upon request.
Scholarships available to those in need.  See "policies" below.
---
212 Lacrosse Parents
212 encourages parents to be involved in their children's program participation.
Annual reviews are advised.  Please write anytime to schedule an appointment.  
School first.
Ensure that your athletes are eating well, hydrated, and getting enough sleep.
Encourage 4-6 hours of wall ball per week.
Arrive to all practices early.
Pack a lacrosse bag with all necessary equipment, jerseys, etc. the night before events.