yes The 212 staff is excited to announce a unique national team experience with some of the very best teams and players in the country, attended by our nations' elite coaches from top universities.
PARTICIPATION IN 212 NATIONAL TEAM IS BY INVITATION ONLY.
Scroll down for registration information.
---
Player Eligibility
The 212 staff will select top players in the 2021 graduating class to ensure the highest possible level of play.  
---
Value
Advocacy
212 National Team members will benefit from an experienced staff with a strong network of relationships.  We will use our resources to help 212 families navigate the world of college lacrosse recruiting.
Coaches & Player Selection Committee
Andy Towers (Brown/Dartmouth)
Mike Acee (UNC)
Pat Olmert (UNC) Goalies
John Webster (UNC, Player Selection)
Exposure
Tournaments
When not attending events created in-house with strict standards, 212 will attend outside high-quality events in an efficient manner.
Roster Size
20 Player National Team Roster
We will not succumb to strong demand with large roster sizes.
---
2018 Summer Schedule
Summer Genesis Tournament
June 8-10 Palmyra, PA
June 8 – 212 National Team Training Day

June 9-10: Summer Genesis Tournament
Summer Genesis will feature 200+ teams of recruiting ages 2019 – 2021
Coaches: Andy Towers (Brown/Dartmouth), Pat Olmert (UNC)  & Mike Acee (UNC)
Team Hotel: Fairfield Inn and Suites (10 minutes to fields)
Capital Cup Tournament
July 19-22 Richmond, VA
---
IMPORTANT LOCATION CHANGE INFORMATION
*212 training, the showcase and the tournament will now all be held at William Penn Charter School due to field closings at Germantown Academy.
William Penn Charter: 3000 W School House Lane
Philadelphia PA 19144
---
Schedule
2021 National Team Training
Perrot Field
7/26- 5:00 – 7:00 pm (Thursday)
7/27- 9:30 – 11:30 am ​ (Friday)
HHH Showcase
7/27 – 2:00 – 4:00pm (Friday)
---
HHH 2021 Tournament
---
Attending Confirmed College Coaches: Michigan, Northwestern, Colorado, North Carolina, Loyola, Stony Brook, Ohio State, Lehigh, Lafayette, Navy, Penn State, Florida and Rutgers.
---
212 EXPECTATIONS
Players must understand the team is above the individual, we succeed together:
"Talent wins games but teamwork and intelligence wins championships"
-Michael Jordan
Please arrive dressed and ready to go 1 hour before the first tournament game and 30 minutes before subsequent games when possible.
·      Players & Parents – No talking to officials.
·      At each game players must line up bags in an orderly fashion. All belongings must remain in bags unless being used. Players, not Parents, are responsible for carrying their bags and are responsible for ensuring they have all their necessary equipment.  Before you leave for games,  be sure you have everything.  Parents are not responsible for their player's equipment.
·      Be respectful and courteous to others.  Those who put on a 212 jersey represent our culture and must uphold a strong code of conduct.  All players are to be good sportsmen/women and understand that it's a privilege to be in their position.
·      Maintain a positive atmosphere in all circumstances.  Encourage teammates and other 212 players.  Players will always be positive to each other, congratulate each other when we succeed as a team and never place blame for team losses or mistakes.  Be happy for your teammate when they do something well. Tell them they had a great game.  NEVER belittle another player on this team or any other team. No matter the outcome, we win with class and we lose with class.
·      At the end of each game we will always "get" our goalies, give the opposing team a cheer and look opposing players in the eyes and shake hands respectfully. Players failure to conduct themselves in a respectful way on or off the field will have consequences.
·      Following games, players are to clean up their belongings and any trash that may have accumulated throughout the game.
·      During game play, every player must be focused and encouraging their teammates.  All players must be in a line organized and ready to sub into the game. There is no sitting on the sideline or taking a knee, unless injured.  Our bench is just at important as our players on the field.
·      Do everything 100%. As coaches, we put our teams in the best possible position to have success.  We fully expect each individual to commit themselves, regardless of the circumstance, to the best of their abilities.
·      Play fast, share the ball, HAVE FUN and RESPECT THE GAME.
·     Be a good teammate – we are here for each other and we expect your full commitment EVERYDAY.  Thank you.
---
National Team Uniform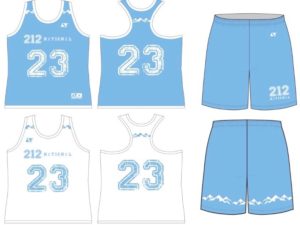 ---
National Team Registration
Inclusive of:
National Team Training Days, Summer Genesis, HHH & Capital Cup Tournaments
HHH D1 Coaches' Showcase Clinic:

Friday

night, July 27
Uniform
Coaches' stipends
Coaches' travel expenses for all events
Not Included:
*Travel, Food, and Lodging:
Each family is responsible for travel, food and lodging expenses associated with tournament and showcase play.
---
Registration Saver
212 Lacrosse has a strict No Refund Policy. Please review our policies at your convenience and consider purchasing the third party insurance offered by Registration Saver, an AIG product.
Click here to learn more about Registration Saver.
Payment plans available upon request.
Scholarships available to those in need.  See "policies" below.
---
Contact
Mike Acee
mike@212lacrosse.com