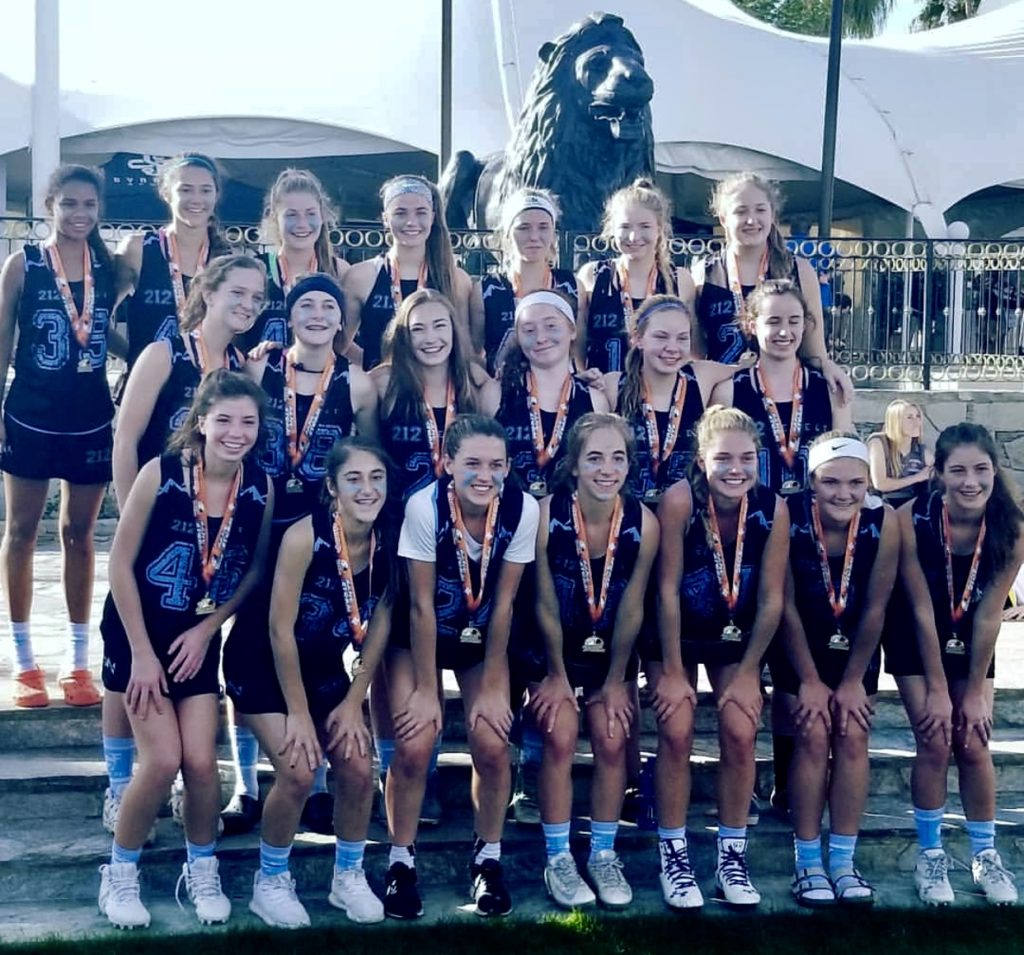 FOR IMMEDIATE RELEASE:
Contact: Christa Graff
Graff Public Relations
1/16/2018
212 Lacrosse, based out of Park City, participated in the Sandstorm tournament this past weekend under the beautiful setting of Empire Polo Grounds in Palm Springs, California.  Sandstorm is the biggest club tournament in the west, with 371 teams participating this year.
The teams were led by Mike Acee (UNC), Christian Pompoco (West Minster) and Lauren Schmidt (Stanford/Team USA), John Webster (UNC) and Andy Towers (Brown).
The 212 HS Team (105-12 overall) finished the weekend in the Elite division with a 5-1 record.  They scored 61 goals and allowed 26 over 6 games, losing in the championship game to RC Elite 6-5 in overtime.  This makes two straight years the top two western teams have played for the Sandstorm championship, with 212 winning 7-6 in 2017.
The 2021 Girls' team finished the weekend with a perfect 7-0 record in the 24 team division notching wins over WEST COAST STARZ 15-0, TENACITY Sacramento 15-2, TENACITY Houston 15-6, FUZION 14-4, 3D Oregon 11-4, 3D Colorado 8-1, and WEST COAST STARZ 7-3, winning 212's 27th championship.
The 2021 girls improved their overall record to 33-7 with 5 tournament championships.
212 has a cumulative record of 241 wins 60 losses and 27 tournament championships with 46 players committing to play college lacrosse.
"This event was played in honor of my former teammate Graham Harden who is battling ALS. I'm extremely proud of all the 212 kids. As always, a big thank you to the entire 212 Lacrosse community. The support the parents show myself and our staff is tremendous. I'd also like to thank Lauren Schmidt (Stanford/Team USA),  Christian Pompoco (West Minster),  John Webster (UNC) and Andy Towers (Brown) for an excellent weekend of coaching and the Sandstorm directors for organizing another fun event for the kids."
-Mike Acee
Complete Game History (11-1)
Date
Opponent
Score
Sand Storm Lacrosse Festival – 212 GIRLS
1/14/2018

WEST COAST STARZ WCS 2021 GOLD

7-3

1/14/2018

3D LACROSSE 3D COLORADO 2021

8-1

1/14/2018

3D LACRO

SSE 3D OREGON 2021

11-4

1/14/2018

FUZION 21 (CO)

14-4

1/13/2018

TTP TENACITY ELITE HOUSTON 2021

15-6

1/13/2018

TTP TENACITY ELITE SACRAMENTO 2021

15-2

1/13/2018

WEST COAST STARZ WCS 2021 ROYAL

15-0
Date
Opponent
Score
Sand Storm Lacrosse Festival – 212 BOYS
1/14/2018

RC LACROSSE RC ELITE SILVER

5-6 OT

1/14/2018

CA TEAM HS ELITE

9-4

1/14/2018

OREGON PRIDE

9-3

1/13/2018

VICTORY LACROSSE VICTORY SJC

12-6

1/13/2018

LOS ANGELES COBRAS LA COBRAS

13-3

1/13/2018

OC REBELS LACROSSE OC REBELS

13-4