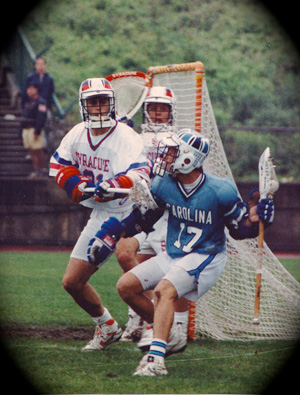 Reflecting on 15 Years of 212 Lacrosse
The central figure in the 212 Lacrosse journey is our founder, Mike Acee, who draws inspiration from his father and coaching mentor, the retired Hall of Fame coach Fred Acee.
Established in Park City, Utah, 212 Lacrosse has been guided by Mike Acee's extensive experience of over 30 years in playing and coaching lacrosse. Mike's lacrosse roots trace back to Deer Park, N.Y., where he emerged as an All-American and secured a Gold Medal at the New York Empire State Games, showcasing his talents as Team Long Island's top goal scorer.
Transitioning to the University of North Carolina, Mike continued his lacrosse journey. Starting on attack for teams that clinched 4 ACC Championships and 1 NCAA National Championship.
Beyond his involvement with 212 Lacrosse, Mike has impacted the local community. He led youth recreation teams for Park City and The Waterford School, amassing a 126-36 collective record over seven seasons. His leadership yielded 3 state championships for both boys' and girls' teams.
Under Mike's leadership at 212 Lacrosse, he and his dedicated staff boast 348 wins, 85 losses, and 37 tournament championships. Moreover, 87 players from the program have committed to playing college lacrosse, a testament to the program's commitment to fostering talent.
The tournament teams of 212 Lacrosse play not only for victory but also to honor the families of Mike's North Carolina teammates who have faced adversity. Demonstrating their commitment to supporting those in need, 212 Lacrosse donates to assist these families and others facing challenges.
After completing his education at UNC, Mike ventured to San Francisco, where he spent eight years before relocating to Park City in 2005. Embracing his passion for both coaching and the mountains, Mike served as a certified snowboard instructor and staff trainer at Park City Mountain Resort until 2014, when he chose to dedicate his focus to lacrosse and other opportunities.
This marks a 15-year journey for 212 Lacrosse, defined by growth, community involvement, and a commitment to excellence.