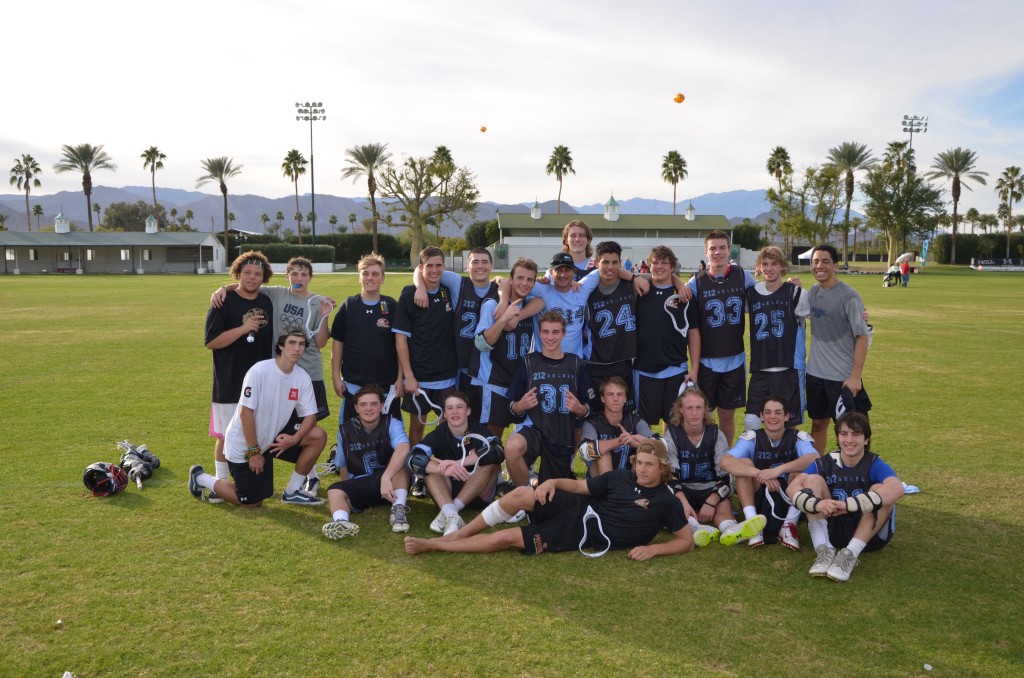 FOR IMMEDIATE RELEASE:
Contact: Christa Graff
Graff Public Relations
435-640-7921
1/23/2015
212 Lacrosse, based out of Park City, participated in the Sandstorm tournament this past weekend under the beautiful setting of Empire Polo Grounds in Palm Springs, California.  Sandstorm is one of the biggest club tournaments in the west, with 250 teams participating this year.  212 fielded teams in the 2019 and 2016 divisions.
The teams were led by former UNC Tarheel, Mike Acee, UVA Cavalier Court Durling, and Manhattan College's Brian Bilzi.
The 2019 boys team finished the weekend with a 5-1 record, dominating the competition, before losing to the West's biggest multi state all-star team, West Coast Starz.  The team recorded wins over the 3D Orange County 14-2, 3D Riverside 8-3, Madlax 9-4, Brady's Bunch 6-3, and 3D Los Angeles 6-3.
The 212 2017 team (54-4 overall) finished the weekend in the 2016 division with a perfect 7-0 record, culminating the weekend with 212's 13th tournament championship in 3 years .  The team notched wins over All-West Elite 9-2 in the semi-finals and Brady's Bunch 11-2 in the championship game.
212 has a cumulative 3 year record of 139 wins 33 losses and 13 tournament championships with 18 players committing to play Division 1 lacrosse.  212 has cemented itself as the premier lacrosse training club in Utah.
212 founder Mike Acee continues to reiterate a theme of the program over the last 20 months. "212 plays for two of my former teammates at North Carolina, Neill Redfern (battling cancer) and Eric Seremet (recently widowed). The message for the kids to play for something greater than themselves is unifying and they all continue to play very hard for Eric and Neill. I'm extremely proud of all the 212 kids. As always, a big thank you to the entire 212 Lacrosse community. The support the parents show myself and our staff is tremendous. I'd also like to thank Court Durling (D1-Virginia) and Brian Bilzi (D1- Manhattan College) for an excellent weekend of coaching and the Sandstorm staff for organizing another fun event for the kids."
212 Lacrosse, is based in Park City, Utah. 212 is led by Mike Acee, who has more than 30 years of experience playing and coaching lacrosse. He was raised in Deer Park, N.Y., where he was an All-American and went on to become a four-time ACC Champion and an NCAA National Champion, starting on attack for the University of North Carolina Tar Heels. Mike was also a gold-medalist and the top scorer in the Empire State Games for Team Long Island of New York.
At 212 Lacrosse, Acee has assembled a roster of high-caliber coaches and players. The program emphasizes commitment and success for all its players, and provides one-on-one mentoring for team members.
To learn more about 212, contact mike@212lacrosse.com.