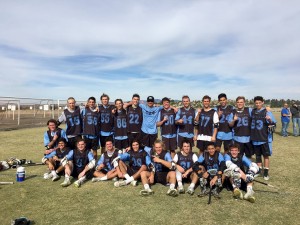 FOR IMMEDIATE RELEASE      
Contact:
Christa Graff
Graff Public Relations
435-640-7921
christa@graffpr.com
212 Lacrosse, based out of Park City, participated in the 3D Oceanside Tournament this past weekend in beautiful San Diego, California. The tournament attracted 100+ teams and 40 college recruiters with outstanding competition. 212 fielded teams in the 2019 and 2016 Elite division with players spanning grades 8-12.
The teams were led by former UNC Tar Heel Mike Acee, Manhattan College's Brian Bilzi and Notre Dame's Casey Price.
The 2019 boys' team finished the weekend with a 4-1 record. Their only loss coming to a very good ADVNC team led by former UVA All – American Chris Rotelli. The team recorded wins over the 3D Los Angeles (7-4), 3D San Diego (7-1), Booth Indians (9-4), 3D San Diego (8-7) and took home 3rd place.
The 212 Elite team finished the weekend in the top division with a perfect 5-0 record, culminating the weekend with 212's 14th tournament championship. The team notched wins over Alpha Elite 6-4 in the semifinals and broke the 3 year win streak of 3D Norcal 8-6 in the championship game.
"I'm extremely proud of all the 212 kids. As always, a big thank you to the entire 212 community. The support the parents show myself and our staff is tremendous. I'd also like to thank Brian Bilzi (Manhattan College) and Casey Price (Notre Dame) for an excellent weekend of coaching and the 3D staff for organizing a well run, fun event for the kids."
212 Lacrosse is based in Park City, Utah. 212 is led by Mike Acee, who has more than 30 years of experience playing and coaching lacrosse. At 212 Lacrosse, Acee has assembled a roster of high-caliber coaches and players. The program emphasizes commitment and success for all its players, and provides one-on-one mentoring for team members.